---


App Tab Bar Icons for iOS offer iPhone, iPad, and iPod developers a quick and easy way to create stunning navigation bars, toolbars, and tab bars in their apps. Numerous raster and vector options are available to accommodate the latest super-high resolution Retina displays used in iPhone 5 and similar Apple devices. Thanks to the high-pixel count and scalable vector versions available, App Tab Bar Icons for iOS will look edgy and three-dimensional. All icons have controllable depth that can be adjusted with an extra Alpha-channel layer. The App Tab Bar Icons for iOS collection includes images one's likely to encounter in toolbars and navigation bars used in iPhone, iPad, and iPod apps.

Technically, developers receive 99 unique app icons drawn in matching style, each coming in white and black versions. Resolutions of 20x20, 30x30, 40x40, and 60x60 pixels in PNG and PSD formats are included, with vector sources in AI, SVG, and PDF formats also supplied.

Raster icons in PNG format only: $49.00 / 39.00 EUR
Raster icons in PNG, PSD formats + vector sources in AI, SVG, PDF formats:
$99.00 / 89.00 EUR




App Tab Bar Icons for iOS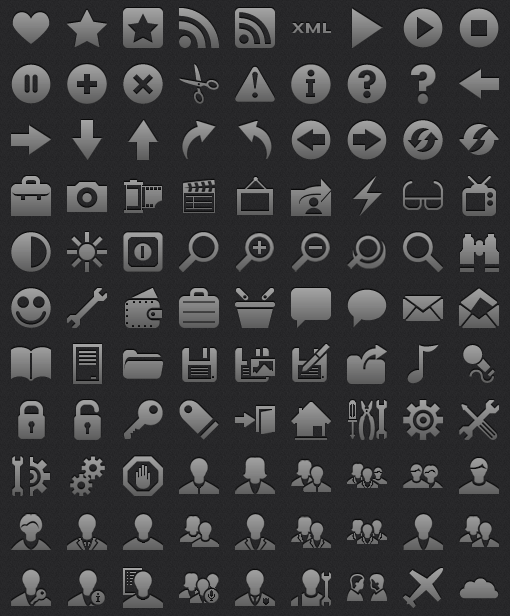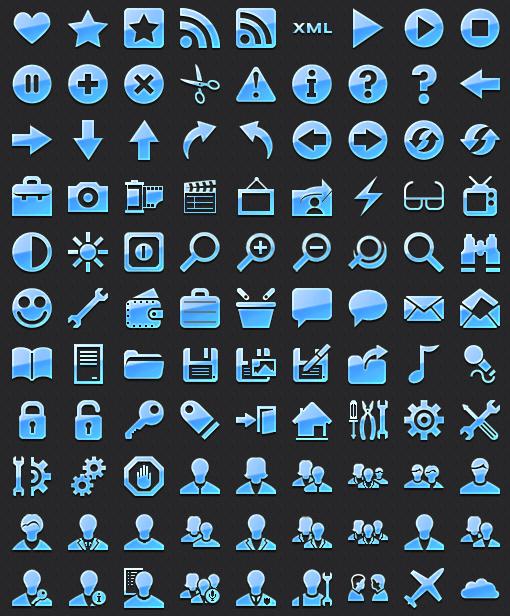 ---
Icons for iPhone, iPad, and iPod: What Image Sizes Do I Need?
When making apps for all generations of Apple iPhone, iPad, and iPod devices, application developers are required to use a certain set of images meeting Apple's strict Custom Icon and Image Creation Guidelines. As a bare minimum, one needs an application icon and a launch image. However, Apple recommends that apps provide quite a few additional images such as an icon to be used by iOS when displaying Spotlight search results and Settings. Apps that can open certain file types (such as documents, music, or video formats) will require icons to represent their supported file formats. Most apps will also need a fair share of graphics to draw their navigation bars, tab bars and toolbars.

As a general rule, Apple has very strict requirements on how to draw these icons so that each app running on iPhone, iPad, or iPod platform conforms to common specifications and visual guidelines. Specifications ensure that your app looks in line with apps offered by Apple and third-party developers.

The Retina Display: Making Icons That Look Great

Apple's new super-high density Retina display packs more pixels into a small area than was possible just a few years ago. These high-resolution displays allow displaying the highest definition graphics to create crisp images with stunning dimension and depth. As such, Retina displays will naturally require higher resolution icons to be used in navigation bars, toolbars, and tab bars. Texture-reach, detailed, and more realistic images with small elements and engravings will create the most pleasing effect of three-dimensionality and depth. To look good on Retina displays, developers need their icons in resolutions of 60x60 pixels.

Icons for Navigation Bars, Toolbars, and Tab Bars

While, in general, apps can use artwork in any reasonable size or resolution, there are a few common sizes your icons must conform to in order for iOS to display them properly in navigation bars, toolbars, and tab bars.

For iPhone and iPod touch toolbar and navigation bars, Apple specifies the icon sizes of 20 x 20 pixels (standard resolution) and 40 x 40 pixels (high resolution, for Retina displays). Toolbar and navigation bars in iPad apps use 20 x 20 pixel versions exclusively.

Tab bar icons are specified in two sizes. 30 x 30 pixel versions are used in tab bars displayed in iPad, iPhone and iPod touch apps in standard resolution. In addition, iPhone and iPod touch apps employing the Retina display will benefit from using super-sized images in resolution of 60 x 60 pixels.

Ready-Made Icons for iPhone, iPad, and iPod Navigation Bars, Toolbars, and Tab Bars

Icon Empire offers a collection of ready-made royalty-free icons conforming to Apple's navigation bar, toolbar and tab bar guidelines. App Tab Bar Icons for iPhone offer an easy way to create great-looking navigation bars, toolbars, and tab bars in iPhone, iPad, and iPod apps. 120 unique app icons are included in all standard sizes of 20x20, 30x30, 40x40, and 60x60 pixels. Each image comes in black and white versions. Raster PNG and PSD formats and scalable vector AI, SVG, and PDF sources are included.


---
App Tab Bar Icons for iOS feature:
Sizes: 20x20, 30x30, 40x40, 60x60
File formats: PNG, PSD, AI, SVG, PDF
Colors: white, black
Background: transparent
Icon quantity: 99
Image quantity: 792
Compatibility: iPad, iPhone, iPod
iOS Human Interface Guidelines Hints
For toolbar and navigation bar icons, use icons in the following sizes:
For iPhone and iPod touch
20 x 20
40 x 40 (high resolution)
For iPad:
For tab bar icons, use icons in the following sizes:
For iPhone and iPod touch:
30 x 30
60 x 60 (high resolution)
For iPad:
Note:
The icon you provide for toolbars, tab bars, and navigation bars is used as a mask to create the icon you see in your iOS application. It is not required to use a full-color icon. We offer pure white and black icons with appropriate alpha transparency.
Icon Craft
is our pick. This
icon maker
allows you to design and edit all kinds of graphics required in the software development cycle, including icons, static and animated cursors and interface elements - all these kinds of graphics can now be designed in a single application.
Icon Processor
is an icon converter. It creates icons from your images. It is possible to convert 256-color icons into True Color icons and XP icons.
ICL-Icon Extractor
will scan your files, archives, folders and all local disks for icons. It can download icons from the Internet and customize Windows icons.
Perfect Icon
creates icons from any graphic file (PNG, JPEG, BMP, TIFF, WMF and more) in just seconds. Create stylish icons for Windows XP. Easily replace, colorize and save icons that Windows uses to display standard objects, folders and files.
Pixel Editor
is a program to create and edit images for websites or mobile devices. An array of tools to work with pictures and simplicity of use make this product ideal for newbies and graphic design professionals alike.