Icon Maker for Windows PC
It is a powerful, easy-to-use icon maker for editing Windows icons and small images.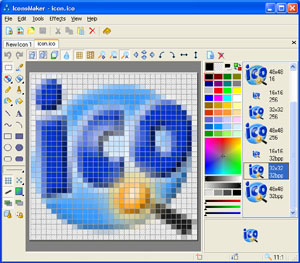 With IconoMaker 3.36 you can:
Edit packed Windows Vista/7/8/10 icons
Create and edit icons in either standard or custom sizes, in color depth up to 16 million colors
Make icons for Windows, iOS, Android, Mac OS, *nix, web sites
Create and edit icons for Windows XP in 32-bit color depth with 8-bit alpha channel
Paint images with pen, brush, airbrush, ellipse, rectangle, line, curve tools
Roll, shift and rotate images
Import and export .ico, .png, .png/base64, .xpm, .xbm, and .icpr formats
Make icons for Mac OS Leopard
Sort images inside icons
Copy and paste images to other applications
Copy and paste color values from the clipboard
Test icons
System requirements: Windows PC

Compatibility: Windows 98, Windows 2000, Windows XP, Windows Vista, Windows 7, Windows 8, Windows 10

Trial limitations: 30-day trial period, nag screen, "DEMO" watermark.

Price: $29.95 or 20.00 EUR.

Download (6.2 MB):
exe
zip
Ways to Take Advantage of Icon Maker
Because of the way that information technology and icon maker is changing and developing as each day passes you need to be alert.

As a site owner it is important to keep up with the changes for both your site and your personal computer. One such easy way to make the icon of your dreams is by using easy maker. This software is easy to use and also readily available since it can be downloaded from the internet as well as get it from your local software dealer.

This particular software makes it easy for you to create, change, extract and even edit the icon that you are working on and also not forgetting that they enable you to explore and search for variety. It is amazing how you can easily edit and extract an icon from either DLL or EXE to the format of your choice using such software.

Before using any icon maker it is advisable to understand how it works before getting down working in order to saves both time and money. When you capture the icon or image that you want to work on, it is possible to process the icon using desired effects such as soften, lighten, darken, emboss, blur etc. thanks to the filters functions. Initially people used to spend a lot of money trying to get someone with software that could be able to help in the making of icons.

Things have really changed because you can now be able to download an icon maker at the comfort of your living room for a small fee. People are advised to take advantage of this software because if you do a good job and post them on the internet, then you might be lucky to get some bids on your work. The main advantage of such a software is that it allows you to be creative and also helps you in coming up with unique work unlike the icons that are found through out the internet.

The next time you think of changing icons on your website or basically on your computer, you should highly consider working with software that allows you to be adventurers and independent. Creating a career from creating icons is something that most people are opting for, because you get to work at your own time when it seams convenient to you provided you have the necessary software to work with.