---
Blue Web Buttons
Blue Web Buttons offer social network developers one more uniform theme that's easy on the eye. Painted in blue, the collection of Web buttons represents a variety of navigation and control elements used in social networks and communication Web sites. The set includes images such as Up and Down, Home, Favourites, Left and Right, and many others, 96 images in total.

Blue Web Buttons come in sizes of 48x48 and 64x64 pixels. The icons are painted on transparent background.


File format: PNG
Image sizes: 48*48,64*64
Background: transparent
Image quantity: 96
Icon quantity: 48
Price: $29.00 / 25 EUR

Download demo
View license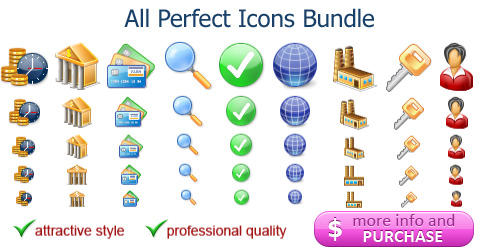 Toolbar Icons for Business
---
Portfolio icons are large images that are used in designing a website or even making your photo album look good. They come in various types for whatever portfolio condition you have set.

In the website world icons are making a lot of buzz, and furthermore, it is now widely used by professionals who work constantly with software. These icons are now being used to show a portfolio status such as contents that support your work. In addition, these icons will help you create portfolio conditions as well as modify the look of your website.

It is possible to get these portfolio services being offered in the internet. Here you can get to choose from the different types of icons that can be perfect for your website or portfolio. You can get icons that are glossy, which in most cases come in different sizes and you can get these in the format of PNG and ICO. These large icons also come in various colour combinations that enable you to freely choose from.

Icons are a great tool for computers interfaces since they can be used in creating a prefect look for your desktop or website. Furthermore, it can be used for different applications that your computer has.

The use of these portfolio icons has seen many professionals and website owners implementing the portfolio widgets on their sites. They are able to do this because there are very many forms of portfolio widgets that they can choose from. The other uses of these icons it to make people aware of the many different types of portfolios.

The best news about getting yourself one of these portfolio icons is that you can get them online. There are online stores that offer you best services and are very fast. In addition it is possible to get some of them free of charge.


---