---
Black Web Buttons
Black Web Buttons give web designers one more uniform theme that's easy on the eye. Designed in black color, the set of web buttons represents a number of navigation and control elements used in social services and communication web sites. The set includes images such as Back and Forward, Link, RSS, Left and Right, as well as many others, 48 icons in total.

Black Web Buttons come in resolutions of 48x48 and 64x64 pixels. The icons are provided on transparent background.


File format: PNG
Image sizes: 48*48,64*64
Background: transparent
Image quantity: 96
Icon quantity: 48
Price: $29.00 / 25 EUR

Download demo
View license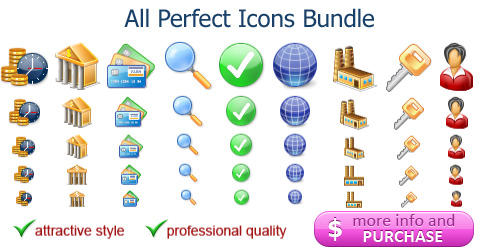 Toolbar Icons for Business
---
Where Large Icons Can be Used in Web Design
Large icons are images that are used in designing a website. These icons are mostly used depending on the work you want it to perform and which application it is used for.

Most of these large icons can be used by business sites as well as online stores. There is a possibility to have large icons that can also be used for architectural, financial and also educational use. Furthermore, they come in various forms that one is able to choose from. There is wide range of different designs from vector icons to 3D icons. All these icons come in different formats with each used for specific uses. There are reasons why someone would decide to use these large icons.

It is important that the first impression of your sites software that the user gets to see is good. This is why you need to have an appealing interface. Therefore, to make your program look more professional you can use these icons to develop your software. They act as effective software marketing tools, that if properly used may improve the appeal of your site. Furthermore, it increases the ability of the user to make easy use of your site since he/she may be familiar with most of the icons.

For professional documents, especially those made by marketing professionals can use them in the company's brochures and even newsletters. It is also possible to use them in presenting multimedia presentations or any other official documents. This makes a company's writing look more professional and exciting too. Since they are large they will definitely attract the attention of your reader.

One other use of these large icons is in website design. With more and more websites coming up each day it has become important that one makes their website more appealing so as to attract more traffic. It is an effective way of making a page or section of your site stand out.


---