Cliparts > Sexy Girl Clipart
The Sexy Girls Clipart set is collection of high-quality handcrafted icons dedicated to women and feminine beauty. You will find them an invaluable asset for any web design or application development project devoted to relations between men and women or projects that will benefit from a "sexier" interface. The set covers all kinds of girls: blondes, brunettes, redheads and oriental beauties, teenagers and even ladies in uniforms!

The icons in this set are available in three popular web formats (PNG, GIF, with a transparent background, and JPEG) and a variety of resolutions (256*256,100*100 and 64*64 pixels) for immediate application in your projects. All the images were created by professional artists that addressed the most miniscule details to provide you with an ultimate set of sexy icons for any interface!


| | |
| --- | --- |
| Girl | Miss |
| Blonde | Brunette |
| Red | Chinese |
| African | Happy |
| Sad | Army |
| Police | Japanese |
| Mulatto | Caucasian |
| City girl | Provincial girl |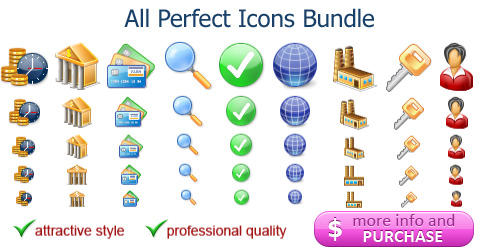 Toolbar Icons for Business
---
Create the Coolest Effect on Your Web Page by Using Crystal Icons
A collection of crystal icons are stock images that are used to represent different kinds of gems and crystals. These are effective in attracting web users to a specific area on a web page.


Crystal Icons

Most of these crystal icons are used in making graphics, which are mostly used in web pages designs or even in the creation of advertisements and posters used in the internet. These crystal icons help a web owner to create a more crystal look for his/her website.

If you are looking to use these collections of large images presented in gem designs, it is possible to get some online. The best part about them is that you get a variety to choose from at the most affordable prices. Furthermore, they can be used by any web user. From the business based website, which demands a more professional look, to online shopping stores that can use any possible design on their site. They create a most lucrative overall look for any site they are used in. What is done here is that these icons are added to your websites portals, and can be used for any reasons you employ them to.

The main purposes of using these crystal icons is to create nice looking graphical work to a site. In addition, they can also be used as interfaces for softwares. They are the best way to draw attention to you site, especially if you are looking for a cheaper way to attract more traffic. Moreover, they make websites look appealing, and also offer the most elegant ways to design a portal.

The crystal icons are mostly used by web owners to help you explain an action in a site that, may have taken a lot of a space if you had not introduced the icons. Therefore, they help save on space. For the user this helps them speed up the time they use in viewing or understanding more of what is on your site.


---